"Bells N' Whistles" Organizer: A 360 degree closet organizer, It has many options of use, it has modular components and its design can change as needed in any given moment.
Its most popular design has a storage capacity of up to 100 Pairs of shoes/ folded clothing, 2 Linear feet of hanging, and 4 drawers. Other design have a storage capacity of 100 Pairs of shoes/folded clothing, 4 Linear feet of hanging.
Another Design has 10 linear feet of hanging, in just a 40″ * 40″ corner, with storage capacity of 40 pairs of shoes.
"Bells N' Whistles" also have other added features as: Jewelry drawer, Valet Rod, Belt Rack, Safe, Mirror, and other cool ideas.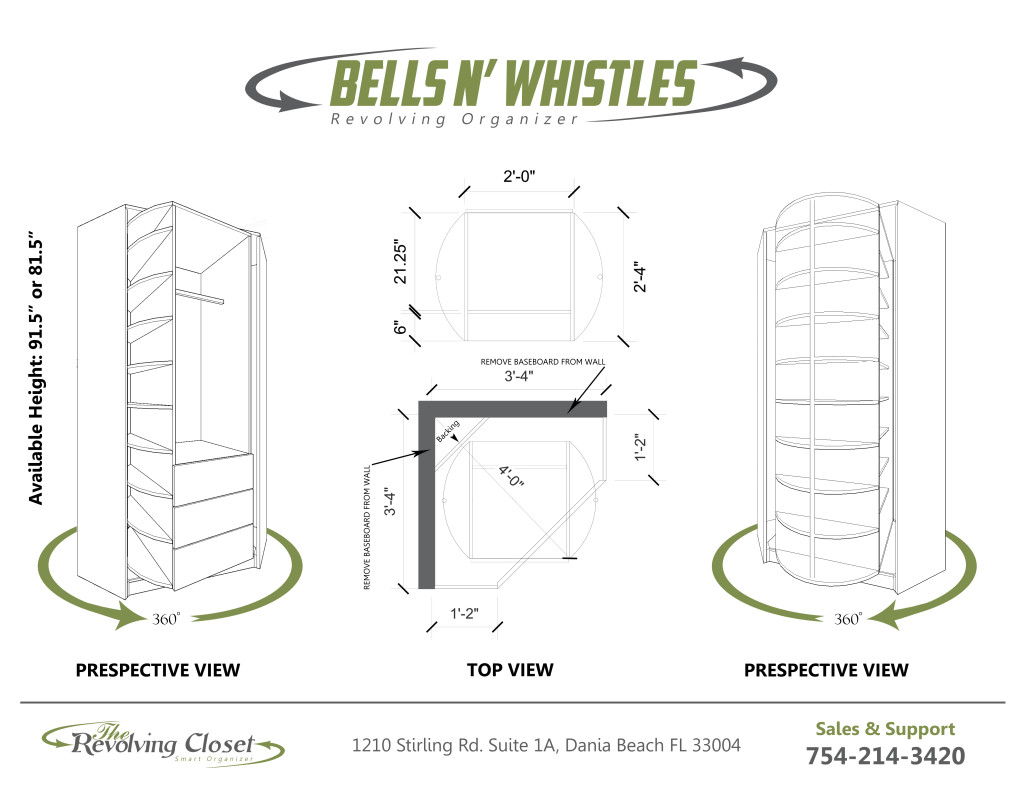 Key Features: –
Manually spins 360°
Can be integrated with an existing closet or stand just alone in any room
Increases storage capacity
Can be used as a Kitchen Pantry, Wine Cellar, Closet organizer, Garage, Display for retail store, Book Shelf, File Organizer, CD collections, Handbags, Shoe Rack, Hat Organizer, Jewelry and more.
Can be customized- by adding drawers, shelves, door, mirror, gadgets and more.
Many colors to choose from
Our luxury 360 Degree "Bells N' Whistles" Revolving Closet Organizer
–
A closet systems that brings beauty and strength together to create a closet system solution that works for you for a lifetime. With beautiful craftsmanship, our luxury closet systems organize and complement a range of storage spaces – especially the master closet. Available in all colors; decorative doors and drawer fronts combine with stylish drawer pulls for an elegant finishing touch that complement your home.
Our Headquarters
–
Based in the Dania Beach Design District, and proudly displayed in our 10000sqft facility this concept has proven to be a one-of-a-kind advanced storage solutions when everything can be done. Our designs and creativity, engineering and many prototypes finally became a fruit of our inventor's vision a dream comes to life.
Currently we have developed space saver systems for Hotels, Dorm Rooms, Bedroom HClosets, Kitchen Pantries, Wine Cellars, Gun Safes… from Residential to Commercial we have many fantastic and creative Ideas. Producing one unit at-a-time to mass production we are well equipped and ready to ship your desired system.