"Rack N' Roll", A 360 degree Revolving Closet Organizer by "The Revolving Closet"
"Rack N' Roll" 360 degrees (No electrical feed needed)
Total of 6 Exterior shelving measures 21.5" wide x 14" deep
Total of 6 adjustable shelves included for both interior sides measures 28″ wide x 6" deep
Assembled Dimensions (DxWxH):
40" x 40" x 42"
Additional adjustable shelves available for all sections as an upgrade
Additional colors available as an upgrade
Color Options: Click Here for color options
"Rack N' Roll"
Shoe & Accessory Storage Unit – "Rack N' Roll" is the only revolving shoe and accessory storage unit of its kind. "Rack N' Roll" makes it easy and convenient to store all your favorite shoes and accessories, allowing you to see and select them at a glance!
"Rack N' Roll" allows to revolve smoothly and quietly.
"Rack N' Roll" can hold about 70 pairs pairs of shoes depends on the size of your shoes.
"Rack N' Roll" is available in a variety of diameters and heights to fit most walk-in closets. "Rack N' Roll" is also great for areas where space is limited, such as lofts and condos and small rooms.
"Rack N' Roll" is now available for easy at-home installation.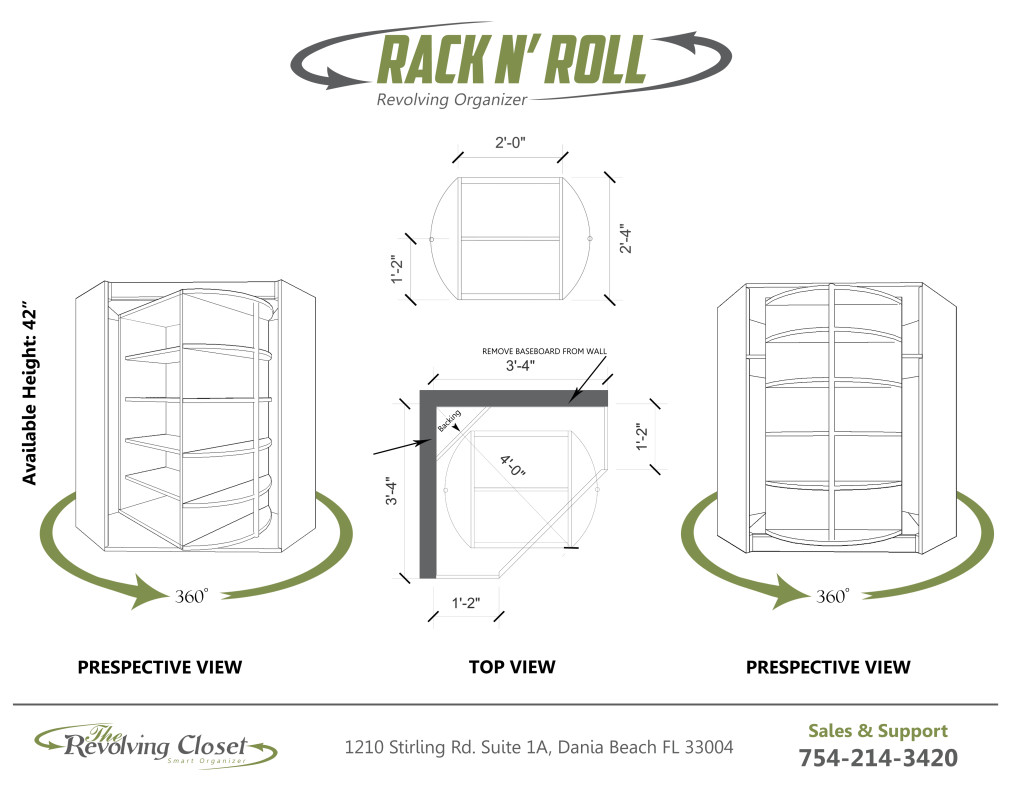 Key Features: –
Manually spins 360°
Can be integrated with an existing closet or stand just alone in any room
Increases storage capacity
Can be used as a Kitchen Pantry, Wine Cellar, Closet organizer, Garage, Display for retail store, Book Shelf, File Organizer, CD collections, Handbags, Shoe Rack, Hat Organizer, Jewelry and more.
Can be customized- by adding drawers, shelves, door, mirror, gadgets and more.
Many colors to choose from
Our luxury 360 Degree Revolving Closet Organizer – "Rack N' Roll"
A closet systems that brings beauty and strength together to create a closet system solution that works for you for a lifetime. With beautiful craftsmanship, our luxury closet systems organize and complement a range of storage spaces – especially the master closet. Available in all colors; decorative doors and drawer fronts combine with stylish drawer pulls for an elegant finishing touch that complement your home.
Our Headquarters –
Based in the Dania Beach Design District, and proudly displayed in our 10000sqft facility this concept has proven to be a one-of-a-kind advanced storage solutions when everything can be done. Our designs and creativity, engineering and many prototypes finally became a fruit of our inventor's vision a dream comes to life.
Currently we have developed space saver systems for Hotels, Dorm Rooms, Bedroom Closets, Kitchen Pantries, Wine Cellars, Gun Safes… from Residential to Commercial we have many fantastic and creative Ideas.
Producing one unit at-a-time to mass production we are well equipped and ready to ship your desired system.